BitCore's News
In this section you will find the most recent
news of all our Bitcore development.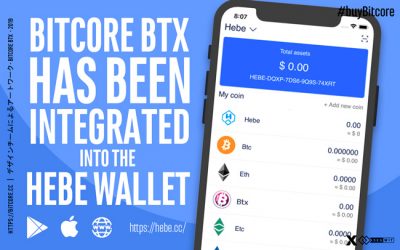 BITCORE BTX is now listed on Hebe Wallet (@BlockHebe) BTX community, you will have new web wallet, and Mobile App (Android and iOS). Hebe Wallet is a decentralized wallet that supports local transaction signatures. More info about Hebe wallet...
BITCORE BTX Since 2017 - All Rights Reserved 2019    -    Contact Us: [email protected]
Disclaimer: The Bitcore website (bitcore.cc) cannot take responsibility for third party providers, such as the listed exchanges, wallets, sites and pools. All links hosted on our domain are by community members and third parties and by clicking on any of the listed links you are accepting the risks of using the third party domain and taking responsibility for any losses, damage or other issues using said domain. Crypto-currencies are inherently risky and investors and users must remain vigilant.