MasterNodes with only 2100 BTX
Coins locked in MasterNodes 1.967.700 BTX 🚀🚀🚀
Total Value Locked
in MasterNodes
$1,200,917.08  🚀🚀🚀
YOU WIN
You have won 10BTX, but to receive them you must: copy this code ZSNlP2Odik + your BTX address in a twitter saying: #WinAtEasterWithBitCore and join our Discord, place the code and your BTX address in the eastergift room.
*prize for the first 5 people
**your wallet must have a positive balance of 10BTX
***exchange wallets are not accepted
keep looking, there are more eggs!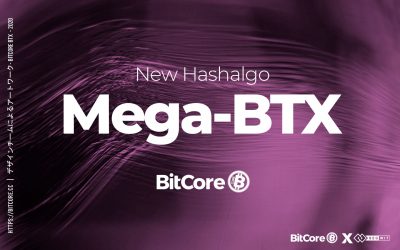 Mining has been evolving constantly since Bitcoin was released, many ups and downs on the road have been the norm. That is why BitCore BTX is always focused in this evolution and now BitCore BTX is about to launch a new algorithm thinking in actual mining situation....
BitCore BTX

Since 2017 - All Rights Reserved 2021    -    

Contact Us:
[email protected]
Disclaimer: The Bitcore website (bitcore.cc) cannot take responsibility for third party providers, such as the listed exchanges, wallets, sites and pools. All links hosted on our domain are by community members and third parties and by clicking on any of the listed links you are accepting the risks of using the third party domain and taking responsibility for any losses, damage or other issues using said domain. Crypto-currencies are inherently risky and investors and users must remain vigilant.