BITCORE TEAM
BITCORE is an open-source cryptocurrency. A team has formed around core developer Chris, together they're pursuing their vision of a high-tech, yet low-fee payment coin with a wide spread merchant and online-service acceptance.
Brad
Supporter Brad is Bitcore's Facebook manager.
Hampus
Supporter Hhampuz is organizing signature campaigns and manages our threads on a lot of altcoin forums.
Klaas
Head of Website Suppor Telegram and altcoin forum support.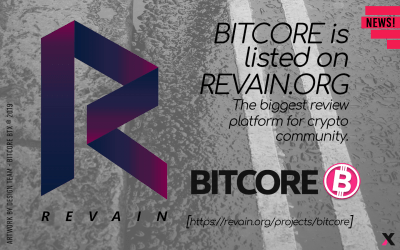 Revian.org is a blockchain-based review platform with a goal to bring back people's trust in online reviews. It's a new generation feedback platform that doesn't allow changing or deleting reviews and its authors get a reward for creating it. Revain also uses AI...
Disclaimer: The Bitcore website (bitcore.cc) cannot take responsibility for third party providers, such as the listed exchanges, wallets, sites and pools. All links hosted on our domain are by community members and third parties and by clicking on any of the listed links you are accepting the risks of using the third party domain and taking responsibility for any losses, damage or other issues using said domain. Crypto-currencies are inherently risky and investors and users must remain vigilant.