BITCORE is an open-source cryptocurrency. A team has formed around core developer Chris, together they're pursuing their vision of a high-tech, yet low-fee payment coin with a wide spread merchant and online-service acceptance.

 Chris
Core Developer and Founder of BITCORE BTX


 Jon
Evolution Backend Developer, Founder of BITCORE BTX

Jon is the API, Electrum and infrastructure developer for BITCORE. Bitcointalk | Github

Carlos
[DgCarlosLeon]Graphic Designer, Ambassador & Social Media

 Lukas
Lukas joined the BITCORE team as Backend Organisation – Head of Administration. He is working since 2000 as IT-Administrator in Germany. Bitcointalk | Twitter
David (Dalijolijo)


Python and C++ Programmer QT David is an experienced programer in the crypto space and supports the BitCore project. Github
 Iván León
Support / Speaker Ivan is our person in charge of taking Bitcore's voice in conferences, seminars and meetings in Venezuela. Twitter | Bitcointalk | Telegram
 David
(Kryptowerk)
Strategy Advisor He is also working on media publications and supports the core team's workflow. Bitcointalk | Twitter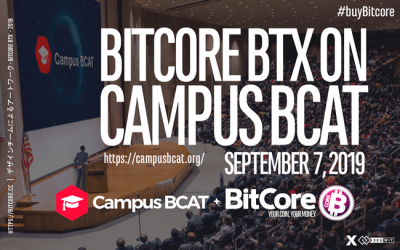 Africa is changing just like the rest of the world and we are happy to see them play major roles at the center stage of disruptive technologies such as the blockchain. The Campus BCAT event is a university-wide education program aiming to teach and expose tertiary...