MasterNodes 80008 Online 🡹
COMPARISON CHART – Nov, 20 -2020
CIRCULATING SUPPLY
124,260 ❌
MINING ALGO
ETH CONTRACT ❌
CONTRACT
DISTRIBUTION & PROCUREMENT
BUY / TRADE
✔ ✔ ❌ ❌ ❌
SEGWIT / LIGHTNING
NOT ❌ NOT ❌
DIFFICULTY ADJUSTMENT
UNKNOWN ❌
UNKNOWN ❌
ESTABLISHED
YES, JAN 2019 ✔
CIRCULATING SUPPLY
186,492,898 ❌
MINING ALGO
OPTIMIZED X13 ❌
GPU FPGA
BLOCKSIZE
8 MB ✔
(16 – 32 MB)
BLOCKCHAIN SIZE
~135 + GB ❌
DISTRIBUTION & PROCUREMENT
CLAIM / BUY / TRADE
✔ ✔ ✔ ❌ ❌
SEGWIT / LIGHTNING
YES ✔ YES ✔
DIFFICULTY ADJUSTMENT
UNKNOWN ❌
2 Weeks ❌
ESTABLISHED
YES, NOV 2017 ✔
CIRCULATING SUPPLY
17,513,924 ✔
MINING ALGO
EQUIHASH ❌
FPGA
BLOCKSIZE
1 MB ✔
(2 – 4 MB)
BLOCKCHAIN SIZE
~145 + GB ❌
DISTRIBUTION & PROCUREMENT
CLAIM / MINING / BUY / TRADE
✔ ✔ ✔ ✔ ❌
SEGWIT / LIGHTNING
YES ✔ ? ❌
DIFFICULTY ADJUSTMENT
UNKNOWN ❌
Every block ❌
ESTABLISHED
YES, OCT 2017 ✔
CIRCULATING SUPPLY
18,548,687 ✔
BLOCKSIZE
1 MB ✔
(2 – 4 MB)
BLOCKCHAIN SIZE
~144 + GB ❌
DISTRIBUTION & PROCUREMENT
MINING / BUY / TRADE
✔ ✔ ✔ ❌ ❌
SEGWIT / LIGHTNING
YES ✔ YES ✔
DIFFICULTY ADJUSTMENT
STANDARD
BTC ✔
400%, 2 Weeks ✔
ESTABLISHED
YES, SINCE 2009 ✔
REPLAY PROTECTIONS
NOT NECESSARY ✔
CIRCULATING SUPPLY
17,962,267 ✔
MINING ALGO
MEGA-BTX ✔
(CPU – GPU)
DISTRIBUTION & PROCUREMENT
CLAIM BTC / MINING / MASTERNODE / BUY / TRADE
✔ ✔ ✔ ✔ ✔
SEGWIT / LIGHTNING
YES ✔ YES ✔
DIFFICULTY ADJUSTMENT
SMOOTH
Diff64_15 ✔
15%, 3 Hours ✔
ESTABLISHED
YES, APRIL 2017 ✔
REPLAY PROTECTIONS
NOT NECESSARY ✔
Blocktime: is the estimated time used to mine a block.
Blocksize: is the size in Gigabytes or Megabytes of a block to be mined.
Blockchain size: is the size in Gigabytes or Megabytes of the blockchain.
Mining Algo: is the algorithm used to mine a block.
*This comparative chart does not support either bcash or craigcoin
TAKE TIME
TO EDUCATE YOURSELF
⚠ BitCore is different
From what you know and use every day. Before you start using BitCore for any serious transaction, be sure to read what you need to know and take appropriate steps to secure your wallet. Always remember that it is your responsibility to choose your wallet carefully and adopt good practices in order to protect your money
24th April 2021 our 4th B-day 🎂
Block Number for the Halving 🚀
*Please note that this is only an estimate 
EXCHANGES with integrated BitCore BTX [A-Z]
What is BitCore BTX? What are the features and why should I start using it?
BitCore BTX: Your Coin, Your Money

Established on 24th of April 2017, BitCore from the community for the community. BitCore has one of the lowest transaction fees on the market while possibly providing the best on-chain scaling solution in the  entire crypto-sphere. Take a look at our comparison chart Nov 2020.
Masternodes & Odarhom Core
Odarhom brings along a masternode system for BitCore. The collateral for one masternode is 2,100 BTX. This allows up to 10,000 masternodes to support the network. The masternodes receive half of all generated BitCores. It is possible to set up a masternode with the minimum version 0.90.9.1 or higher. A government system is included in the new core on and can be activated later, if necessary.
Claiming for Bitcoin holders
Claiming for the first snapshot (Bitcoin block #463604) ended 30th of October 2017. We made a new snapshot of the Bitcoin network on 2nd of November 2017 (Bitcoin block #492820). These ~5 million addresses are able to claim BitCore BTX for free, right now! Read how to here.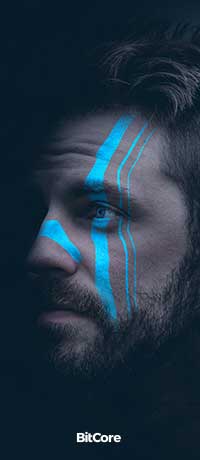 BitCore is currently creating approx. 5'000'000 transactions in only a couple of days to fill all the public keys from the last snapshot with 50% BTX
Some technical information about BITCORE (BTX) and its specifications.
Launched 24th of April 2017
Odarhom Core
Max supply of 21 million coins
Blocksize 10MB (20MB SegWit)
2.5 min average blocktime
Current blockchain size approximately 1010 MB
MEGA-BTX (CPU) mining algorithm
MasterNodes
SegWit and Bloom online
Core Shield 64_15 difficulty
retargeting algorithm
Fair distribution: airdrops (ended) + BTC claiming (ongoing)
BITCORE BTX

Since 2017 - All Rights Reserved 2020    -    

Contact Us:
[email protected]
Disclaimer: The Bitcore website (bitcore.cc) cannot take responsibility for third party providers, such as the listed exchanges, wallets, sites and pools. All links hosted on our domain are by community members and third parties and by clicking on any of the listed links you are accepting the risks of using the third party domain and taking responsibility for any losses, damage or other issues using said domain. Crypto-currencies are inherently risky and investors and users must remain vigilant.