Bitcore BTX Community!
While 2018 was a year characterized by many as the year of one of the harshest bear markets for cryptocurrency to date, the Bitcore network experienced record growth over the course of the year in developments and adoption. By every metric other than price, 2018 was a resounding success for BTX. Here, the report presents summary of improvements taking place over the fourth quarter of 2018. We hope you enjoy this newsletter!
Bitcore has become more secure with hardware wallets
As you know, Bitcore BTX has announced a new version of the Electrum-BTX (https://github.com/LIMXTEC/electrum-btx/releases/tag/3.2.3-btx). But we have more for you; this new version enables BTX to be integrated with the hardware wallets. New version of Electrum-BTX supports TREZOR and ARCHOS Safe-T mini hardware wallets. You can store your BTXs in these devices. Moreover, Bitcore is integrated in ELLIPAL – The Cold Wallet. ELLIPAL is a mobile oriented hardware wallet that works completely isolated from the Internet. All you need is a smartphone with the ELLIPAL app and the device itself.

Real-world adoption
Bitcore has announced a number of integrations and partnerships this quarter, and each one takes the currency a step closer to real-world adoption.
Paytomat is one of them (read more: https://bitcore.cc/paytomat-now-supports-bitcore-btx/). Paytomat operates in six European countries (Ukraine, Georgia, the Netherlands, Czech Republic, Bulgaria, Poland) allowing over 329 merchants to accept Bitcore BTX. Spending Bitcore in Europe is getting easier thanks to Paytomat.

The other one is BTCPay. We have finished the Bitcore integration for BTCPay. BTCPay natively supports Bitcore BTX! Native support means that Bitcore is using full nodes and that the payments are direct. Users are able to try Bitcore integration for their stores, and to pay an invoice in BTX.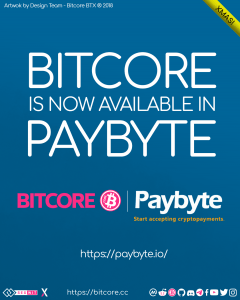 Our latest integration was PayByte, an advanced cryptocurrency payment processor with a different vision. Thanks to PayByte, any merchant is now able to accept BTX payments. Also there is an android app to facilitate payment for merchants. PayByte Checkout allows you to accept Bitcore payments from your Android device with ease. The app works as a virtual terminal (Point of Sale) and usability is simple, intuitive and quick to learn.
Bitcore's integration as a form of payment in these platforms represents a critical step forward in making BTX becomes a more widely adopted and easily accessible cryptocurrency and accelerates BTX adoption in real life.
Moreover, Bitcore has started to make a concentrated merchant adoption push in Venezuela to become number one digital currency for payments in the country. One of the things that the Bitcore team wants to implement in 2019 is more payment system integrations that will provide mass adoption for everyday payments of BTX. This is huge because it will make Bitcore practical for businesses.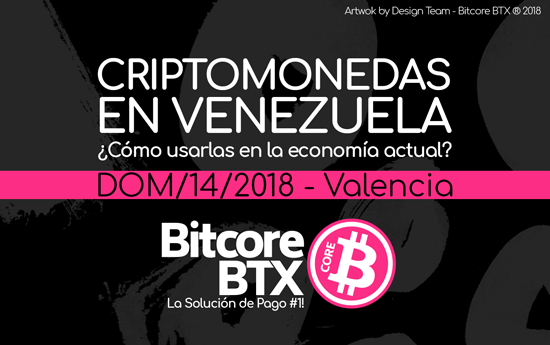 The other important innovation was to integrate Bitcore into the already existing infrastructure operated by the cooperative banks. The first foundation stone has been definitely laid on 5th GENO hackathon (read more: https://bitcore.cc/5-genohackathon-bitcore-and-dash-embassy-d-a-ch/). This project convinced the jury and we proved in the workshop that we were rightly the winner of the GENO hackathon. We will work on this project in 2019 too.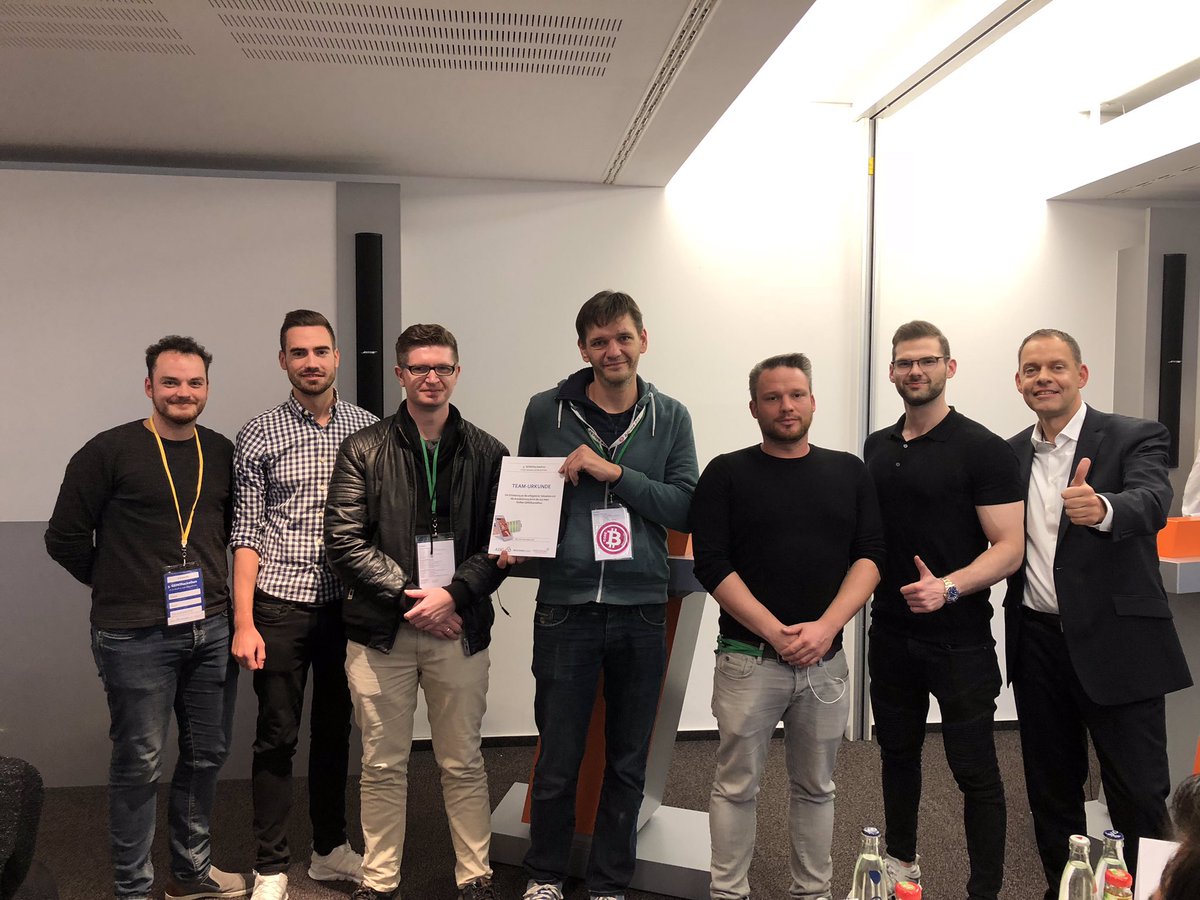 Conferences/Seminars
During the fourth quarter of 2018, Bitcore BTX team has participated some blockchain events; Malta Blockchain Summit, HCPP18, Blockchain Hotel Meetups and Crypto-Rockstar Conference. Thus, we interacted with likeminded individuals, we managed to make some very beneficial contacts, and in addition we had some great talks with people from several different blockchain enterprises. Moreover, we have started our educational seminars in Venezuela. Our aim is to teach people about blockchain technology and Bitcore, and help them to start in this amazing new opportunity. Venezuela will be BTX´s territory!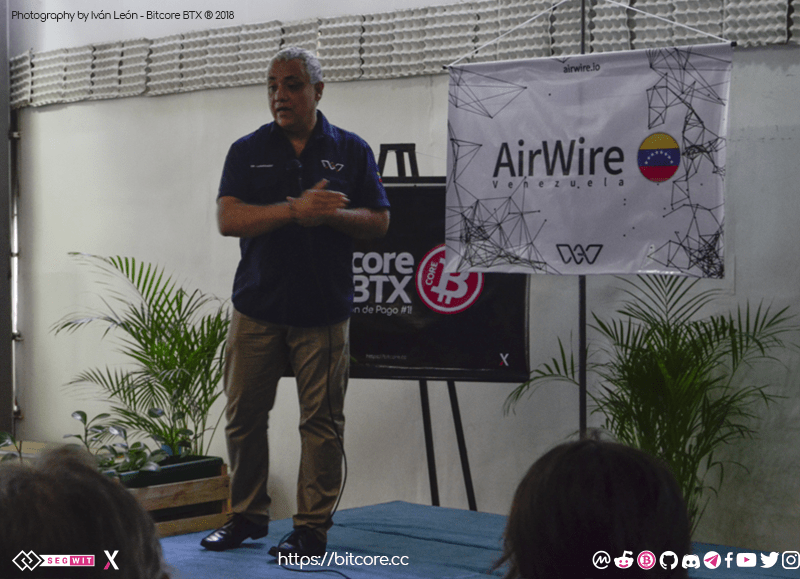 Have a look our other success stories in Q4.
Turkish version of white paper released 20th of October 2018
We created a NEW BITCORE telegram group (Join the new group)
Join our Cheddur channel; https://www.cheddur.com/coins/bitcore
New team members joined to Bitcore
A lot of improvements were made on the official Bitcore website, visit us!
Bitcore has been listed on BitBase, SimpleSwap, Indacoin and NovaExchange
Magnum, a light web wallet, listed Bitcore. Now it's available to manage BTX using Magnum Wallet. Users have full control over their private keys.
To show you how easy it is to spend and accept Bitcore using BTCPay, we have builded "shop-bitcore.cc". Here can you spend BTX for donation of faucets, team members and your own projects.
We released EasyRabBit Widget on our website. Now you can buy BITCORE with our EasyRabBit partners with simple button and without leaving the website.
CryptoCrowns.com added Bitcore, it is a cryptocurrency gambling/bettings website platform featuring unique games among other cryptocurrency players.
Thank you for your support
Last but not least, the Bitcore community believes in us and supports our moves. Mostly because of your support and contribution we were able to achieve the current goals and to be able to set new ones. We will do our best to improve communication with our community. Your feedback is of utmost importance so we will make sure to involve you and keep you updated along the way. Thank you for your support so far and we look forward to furthering our trusted relationship with you. In the coming year we look forward to reaching and publishing many more 'successful milestones' with you.
Yours truly,
Author: LIMXTEC Team
Email: [email protected]

---