We are very excited to announce Bitcore BTX integration with the Archos Safe-T mini hardware wallet. Latest version of the Electrum-BTX wallet supports Safe-T mini. For Bitcore community, we have now 3rd hardware wallets for Bitcore after Trezor and ELLIPAL. Now, your Bitcore has become even safer and more secure. We will continue to expand the BTX ecosystem.
ARCHOS Safe-T mini connects easily to a computer or a mobile device using a micro USB cable. Once having set the required 4 to 9 digit PIN password, it generates and safely stores a private key. Every transaction is displayed on the screen and must be physically approved using the buttons of the wallet. It allows managing the sending and receiving of coins from other wallets in a very simple way. In case the hardware wallet is broken, lost or stolen, the holder benefits from a back-up thanks to the recovery seed key.
How to install your Safe-T mini and How to use Bitcore BTX with Safe-T mini
Once you have unboxed your Safe-T Mini, connect it to your computer using the Mico-USB to USB cable available.
Install the Safe-T mini Bridge software
It is required to install the Safe-T Bridge to make the connection between your Safe-T mini and your Web Browser.
Go to www.safe-t.io
In the platform tab, select the operating system of your computer.
Click Download Safe-T Bridge.
At the end of the download, click the file safe-t-bridge-1.0.2-win32-install to install it.
When the installation is complete, reload the Web page.
Create a new wallet
Now you can connect the Safe-T mini to your computer using the USB cable.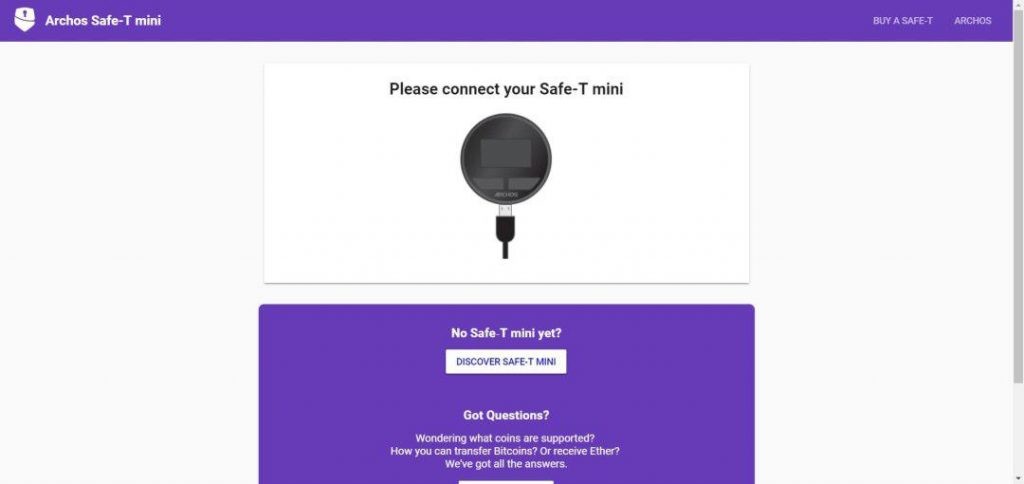 Click Create new wallet. Your device is being initialized.

Follow the onscreen instructions to set up the device.

At the end of the wizard, click End.
Send and receive BITCORE BTX
Now your wallet is created and the device's home screen is displayed.
To send and receive Bitcore BTX, click on "Download Electrum" next to the Bitcore icon, and install it if you haven't done so yet.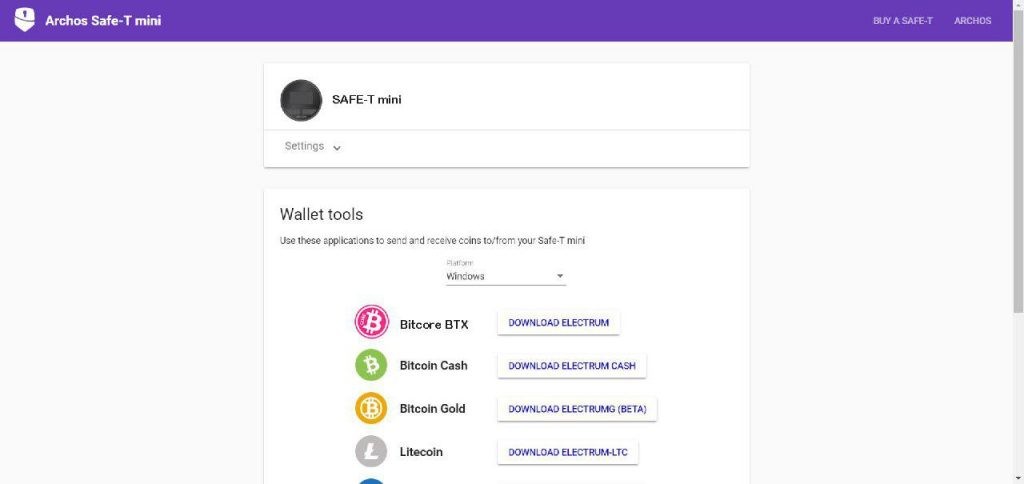 Create and name your first wallet / Choose a wallet already created if already done, then click next
Choose "Standard wallet" and click next
Choose "Use a Hardware device", and click next
Choose your Safe-T mini and click next. You'll be asked to enter you PIN code, use the screen of your Safe-T mini to do so.
You'll then choose your wallet derivation. This will define your wallet address.
Select "Encrypt wallet file", and click next
You can now send and receive Bitcore BTX using Electrum
Note that a Safe-T mini icon is displayed in the low-right corner. This means that Electrum is connected to your Safe-T mini.
What is ARCHOS & Safe-T mini?
ARCHOS, a pioneer in consumer electronics, continues to innovate and revolutionize the consumer electronics market. The ARCHOS Safe-T mini is the first development of the ARCHOS R&D team in this field. The team provided its expertise in securing cold storage data, and in designing and developing the ARCHOS Safe-T mini. To ensure the process traceability, the device was manufactured in France. DomRaider has partnered with Archos, a pioneer company in consumer electronics, to promote the co-branded launch of the Safe-T mini, the newest hardware wallet for cryptocurrencies.
Archos is aiming to compete with the likes of Ledger Nano S, Trezor, Keepkey, and Coolkey, offering an affordable and secure solution to cryptocurrency holders. Safety is the main concern when selecting a hardware wallet to store your digital currencies and apps on. The Archos Safe-T mini features offline private key storage using an encrypted chipset memory (Crypto memory). A secured EEPROM (Electrically Erasable Programmable Read-Only Memory) secures the contents and can only be erased and reprogrammed using a pulsed voltage, making the device extremely secure against attacks. The Safe-T mini is built on the recognized and tested Trezor software.
Where do you buy a Safe-T Mini?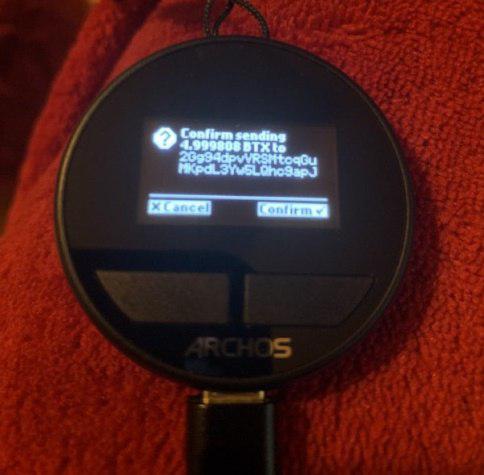 ARCHOS has an online store here. The wallet costs 49,99 € at the time of writing.
Author: LIMXTEC Team
Email: [email protected]

---