In this section You will find the most recent news of all our Bitcore development.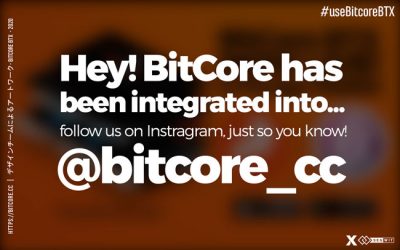 We have a new integration for BitCore BTX, which we will release through our new Instagram account. Follow us on Instagram to stay tuned. https://www.instagram/bitcore_cc We want to remind you that you can follow us on Social Media Networks: [button...
BITCORE BTX

Since 2017 - All Rights Reserved 2020    -    

Contact Us:
[email protected]
Disclaimer: The Bitcore website (bitcore.cc) cannot take responsibility for third party providers, such as the listed exchanges, wallets, sites and pools. All links hosted on our domain are by community members and third parties and by clicking on any of the listed links you are accepting the risks of using the third party domain and taking responsibility for any losses, damage or other issues using said domain. Crypto-currencies are inherently risky and investors and users must remain vigilant.